☕️ Folsom's fall coffee drinks are here! We've done the research… here are some of the best! #supportlocal
We say this time and time again—Folsom has an incredible local coffee scene that is growing every year! We had the tough job of sipping and sampling the best fall drink menus at some of Folsom's favorite shops. There isn't a better time to show them our support! Let's get out there and grab a cup of local coffee. Here's our second-annual list of faves! 👇
———————
WHY IT'S 🔥: Organic pumpkin syrup, beans roasted in house.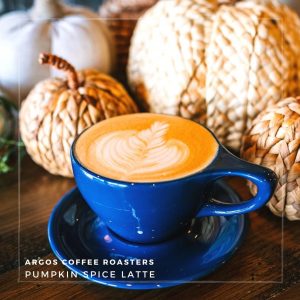 Any self-respecting fall drink guide has to pay respect to the season's staple beverage—the Pumpkin Spice Latte. Fear not, Argos doesn't pump generic syrup into this drink. The syrup is made in-store using real, organic pumpkin. In addition, this latte includes fresh espresso that is roasted on site, steamed milk and creamy foam dusted in cinnamon. It's everything a fall drink should be!
Hours: 7am – 2pm Monday through Friday, 7:30am – 2pm Saturday, 8am – 2pm Sunday |
Address: 195 Blue Ravine Rd #100, Folsom, CA 95630 | Website
WHY IT'S 🔥: Old Fashioned flavor in coffee form!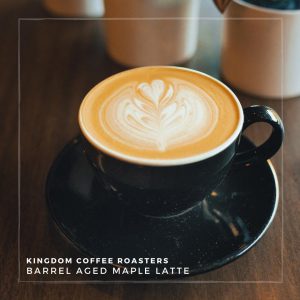 Have you ever had a Barrel Aged Maple Latte? Well, now you can have one at Kingdom! Determined to emulate the flavors of an Old Fashioned, co-owners Will and Ty worked with their team to make it happen. Maple syrup is aged in bourbon barrels and mixed with non-alcoholic orange bitters to give this drink that Old Fashioned taste. A double shot of espresso and steamed milk are the base. You will definitely want to give it a try!
Hours: 7am – 2pm Tuesday through Sunday |
Address: 305 Iron Point Rd, Folsom, CA 95630 | Website
WHY IT'S 🔥: Cold option with an autumn flare!
Cooler weather has arrived, but that doesn't mean you have to retire your beloved cold brew. Cooper's Coffee House has given their cold foam an autumn makeover with an infusion of DaVinci's Pumpkin Pie syrup and a topping of sweet foam. If you are an iced coffee die-hard, no need to despair! Cooper's has you covered.
Hours: 6am – 4pm Every Day |
Address: 189 Blue Ravine Rd, Folsom, CA 95630 | Website
WHY IT'S 🔥: New location and plenty of drink options!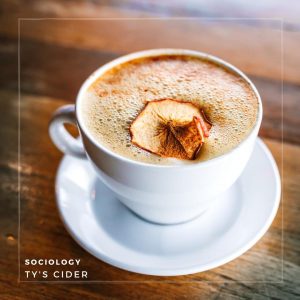 If you haven't been to Sociology's new location, you will definitely want to make a stop here! The dark green walls, plants and intricate mural instantly set the tone for their creative and cozy fall menu. Ty's Cider was created by barista Tyler White. The recipe for this special cider blend is only shared on a need-to-know basis, but you will not be disappointed! In addition to Ty's Cider, Sociology has a robust list of seasonal drinks including the Funkin' Spice Latte, Cider Latte, Espresso Sour and Freddy Graham.
Hours: 8am – 2pm Every Day |
Address: 705 Gold Lake Dr Suite 390, Folsom, CA 95630 | Website
WHY IT'S 🔥: Sutter Street location, reimagined matcha.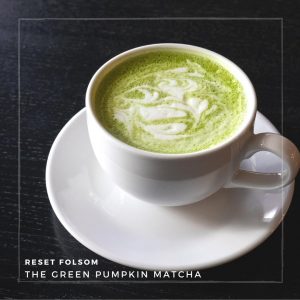 Matcha is a coffee alternative getting a lot of love lately because it provides a caffeine fix without the jitters or crash some associate with coffee. To make The Green Pumpkin, steamed milk is first infused with Japanese matcha. The addition of two organic syrups—pumpkin spice and vanilla—make this drink ideal for those who are new to matcha's earthy flavor. Make a stop at Reset for great drinks, a vibey interior, and cozy parklette!
Hours: 8am – 8pm Monday through Thursday, 8am – 10pm Friday and Saturday, 8am – 4pm Sunday |
Address: 727 B Sutter St, Folsom, CA 95630 | Website
WHY IT'S 🔥: The best of both worlds–pumpkin and vanilla!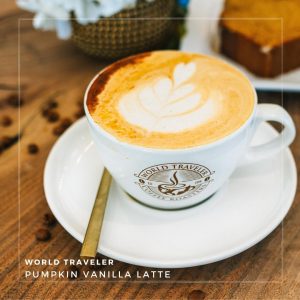 World Traveler has become a Folsom staple due to the quality of their drinks and the creative design of their shop. A Pumpkin Vanilla Latte is on their menu this fall and it is simply delicious. You can't beat the creamy texture and subtlety of the pumpkin flavor. Garnished with cinnamon, this latte features a double shot of World Traveler's espresso beans (a blend of chocolate, honey, and cherry notes), 100% organic pumpkin puree, and 1883 vanilla syrup.
Hours: 9am – 5pm | Sun – Fri, Closed Saturday | Labor Day through the Sunday after Thanksgiving. Address: 603 E Bidwell St suite a, Folsom, CA 95630 | Website
WHY IT'S 🔥: Open in the evening, spices sourced from another Sacramento company.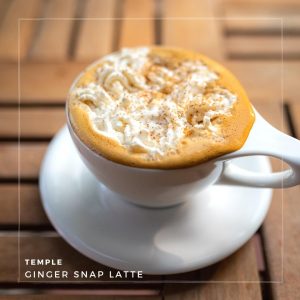 Temple's Ginger Snap Latte has harnessed the flavors of the season. Their ginger snap syrup is created with locally sourced spices from a fellow Sacramento business, The Allspicery. A double shot of their award-winning espresso, house-made syrup, steamed milk, and a rim of whipped cream come together to create a latte you must experience.
Hours: 6am – 8am Every Day |
Address: 2776 E Bidwell St Ste 500, Folsom, CA 95630 | Website
WHY IT'S 🔥: Less milk, more espresso flavor!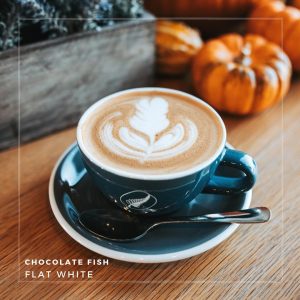 If you enjoy the creamy texture of steamed milk and foam but don't want it to dilute that strong espresso flavor you love, the Flat White from Chocolate Fish Coffee Roasters is your order. This specialty New Zealand drink layers a double shot of espresso with minimal steamed milk and a finger's width of foam. Chocolate Fish recommends trying it without any sugar in order to savor their espresso's natural fruity notes drawn out during the roasting process.
Hours: 6:30am – 3pm Monday through Friday, 7am – 3pm Saturday and Sunday |
Address: 25055 Blue Ravine Rd Suite 100, Folsom, CA 95630 | Website
MORE MUST TRY'S!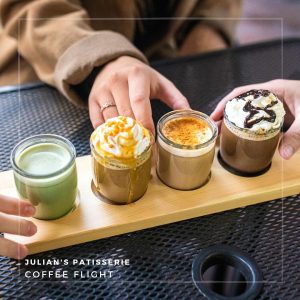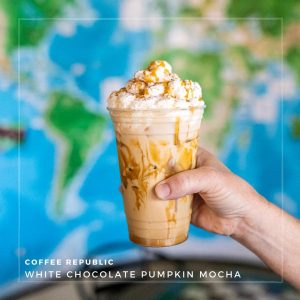 And there you have it! A full coffee itinerary from our local Folsom coffee shops. ☕️ Once you've sipped a drink or two from our list, be sure to come back and let us know what you think!
#supportlocal 💪