🍎 From Apple Fritters to Apple Pies, Apple Hill is a must!
🍁It's that time of the year! The air is crisp, there's rain in the forecast and we are digging up all of the flannel and pumpkin scented candles we can find. It's finally fall and many of us will celebrate the season by making a trip to Apple Hill (located in the Sierra Nevada foothills, just off of highway 50).
Apple Hill Growers is made up of over 50 ranchers. With so many choices, it can be difficult to decide which farms to visit. We are here to help!
———————
📍Here are the four stops we made on our recent trip!
WHY IT'S 🔥: Top selling Apple Hill fritters and donuts! Great for kids!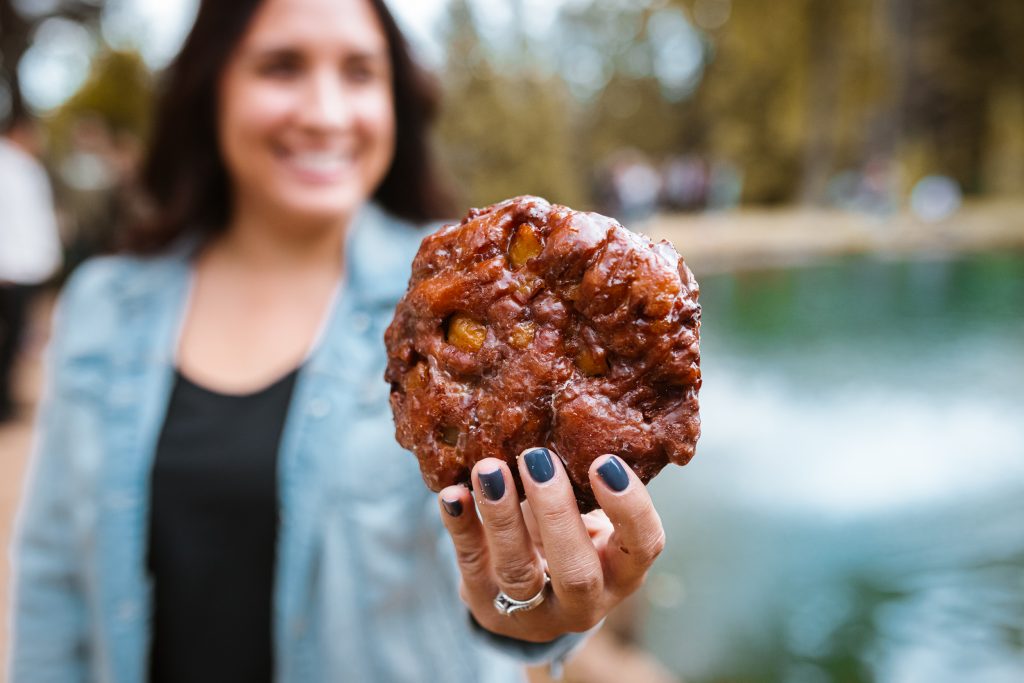 If you're looking for the best apple donuts around, look no further! Homemade and hand-frosted, these donuts do not disappoint. There are so many options! Some Folsom Eats faves include maple glazed, crumble topped and chocolate apple chunk.
In addition to their incredible donuts. High Hill makes unforgettable apple fritters. For starters, these fritters are massive! They are big enough to share but we won't judge if you want one all to yourself. The apple filling is delicious. We can't get enough!
✅ Pro Tip: Make High Hill your first stop and aim to arrive before 10:00 am if you are visiting on a Saturday or Sunday. The pony rides, fishing pond and treats make this one of Apple Hill's most popular farms and traffic backs up onto Carson Rd. as the morning rolls on.
Hours: 9am – 5pm Monday through Friday, 8am – 6pm Sat + Sun |
Address: 2901 High Hill Rd, Placerville, CA 95667 | Website
WHY IT'S 🔥: Black Berry Peach Crisp, creative coffee flights, local honey, and gluten free options!

The word is out! Grandpa's Cellar is the place to be! The line for coffee and dessert gets long on the weekends, so head there early or visit during the week. Their coffee flights are the epitome of "instagramable." We really enjoyed the self-serve, local honey and brought home a large jar. There are plenty of picnic tables in the orchard. We definitely want to go back and spend the morning here!
Hours: 9:30am – 4:30pm Thursday through Monday
Address: 2360 Cable Rd, Camino, CA 95709 | Website
WHY IT'S 🔥: Longest family-owned Apple Hill farm. Great selection of apples and pears to purchase.
If you're looking to purchase apples or pears, this is a great spot. We brought home a half bushel of apples and plan to spend the next few days making all kinds of fall treats! In addition to the amazing produce, you will want to make a stop here to enjoy the water mill and Larsen Farm Museum!
The museum was a delightful surprise full of Apple Hill history, the evolution of the tractor, a chuck wagon, and so much more! We watched people of all ages enjoy their stroll through the museum. Our entire family had a great time here. Put this on your list of Apple Hill musts!
Hours: 9am – 5pm | Sun – Fri, Closed Saturday | Labor Day through the Sunday after Thanksgiving.
Museum Hours: 10am to 4pm Sun. – Fri. Address: 2461 Larsen Dr, Camino, CA 95709 | Website
WHY IT'S 🔥: Craft beer, wine, and hard cider.
Jack Russell Farm Brewery was highly recommended by a friend and now we know why! The grounds are beautiful and who doesn't want to end an Apple Hill adventure with food trucks and beer? We had a flight of beer that included a Pumpkin Ale and a Harvest Apple Ale. Both were perfect for the season. If beer isn't your thing, there is also a wine and hard cider bar. The food trucks and abundance of tables only added to the great experience. We have decided this will be a regular stop for our family! If you're hoping for food, call ahead to make sure the food trucks are around!
Hours: Every day from 11am to dusk | Call for more information on hours and tours.
Address: 2380 Larsen Dr Camino, CA 95709 | Website
Apple Hill is full of wonderful farms!
If you are just starting out, this is a great itinerary that will allow you to enjoy amazing food and drinks along the way! For more information and a complete list of farms, check out the Apple Hill website. Cheers to fall!🍏