🔥Your Local Guide to Tacos, Drinks, and Vibes to kick off the summer. But first, a little history…
Some say this Mexican-American holiday was invented by beer companies in the '80s trying to sell more of their imported libations. That's not entirely wrong, but they didn't invent it; they just used Madison-avenue Imagineers to spice up what was already there—not that it needed it. What followed was a wave of iconic, Americanized new imagery and ideas about the 5th, featuring a youthful, free-drinking spirit. With newly-tanned confidence, hordes of young and old rushed to gulp down terrible Tequila because pure-lime juice is a helluva mouth wash, and soon they wouldn't remember anyway.
The beer companies and ad agencies of yesterday might have put Cinco de Mayo on the map for the masses, but this annual holiday holds a dear place in Mexican heritage, beginning in California, where it has been observed annually since 1863. The date commemorates the Mexican Army's triumph over the French Empire at the Battle of Puebla on May 5, 1862.
Historical significance aside, we're all victorious when we get a day dedicated to celebration and sustenance, one day where we're all on the same party page, cajoled around culture, festivity, and the associated culinary delights. To honor this special Cinco de Mayo, we've highlighted the best places in Folsom to dip your chip, pour the salsa and just maybe drink that perfect margarita against the backdrop of a summer evening as the sky strikes golden hour.
———————
🌮Squeeze the lime, pour the drinks, and get ready to feast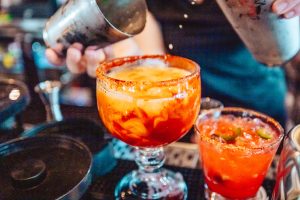 The newly revamped Hacienda Real on Sutter Street carries all Cinco De Mayo vibes every day! Our favorite features about this spot include:
Huge Bar for Happy Hour
Large wrap-around outdoor patio
Great Cocktails
Private Party Rooms
Large menu
Open Tues-Sun, 11AM – 9 PM, 702 Sutter Street, 916-673-9123
If you like options, then Salsa's is the place to get your eats on. With a menu full of traditional fare, you'll also find expanded seafood offerings and a fleet of specialty plates. They also serve breakfast all day, so you can finally have that 8 PM huevos rancheros with a strawberry margarita you've always dreamed of together.
Open 9 AM – 8:30 PM every day, 1760 Prairie City Rd Ste #130, (916) 936-4300
Why not kick off the party with an attractive (and delicious) michelada from Brissa, a team favorite here at Folsom Eats? As the only traditional Mexican bakery in Folsom, this place earns extra points for serving a tasty breakfast burrito and homemade style concha.
Open 7 AM – 8 PM seven days a week, 409 Natoma St, (916) 597-2972
Sutter Street Taqueria is a local hang with plentiful seating and the best al pastor tacos around. They spice things up with special menu items like the best Mahi Mahi burrito I've ever had, and they let you pre-purchase items for those in need through their suspended meal program. Community + tacos = a winning combo, learn more about their pay-it-forward initiative here: http://www.sutterstreettaqueria.com/suspended-meals
Open seven days a week, to 10 PM on Fri & Sat, 727 Sutter St, (916) 293-8952
From that first sip, it's clear Limon E Sal truly has the freshest margaritas around. The great ongoing debate remains among locals, whether the guava or jalapeño margarita pairs best with the prawn tacos? We say there's no harm in trying both.
Opens at 11 AM every day and closes at 9 PM Tues-Sat, 6693 Folsom-Auburn Rd, (916) 294-7084
More than 15 tacos. You read that right, more than 15, from classics like al pastor to Korean fried chicken (and everything in between), all your taco desires can be satisfied. As the only Cinco spot in the Palladio, the vibrant, open-air setting and fun-loving crowd elevate the experience.
Check website for hours, 450 Palladio Pkwy, (916) 597-2929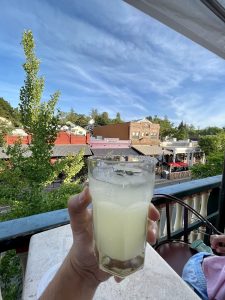 Q'bole! is a Folsom staple where you can't go wrong with anything on the menu. Some of our personal faves are the Taco Dorados, Playa Platter, and Steak Rancheros. Even more exciting, indoor seating is back on the menu, in addition to their sprawling outdoor deck overlooking Sutter St. Cinco Specials: $2 Tacos, $5 Margs, Deejay Leo on the patio from 5-10pm.
Open Sun-Thurs 9 AM – 9 PM, Fri-Sat 9 AM – 11 PM, Closed Mondays, 718 Sutter St Ste #201, (916) 357-5242
The blackberry margarita is at the top of our list! Pregame on May 4th with a 2 for $25 Taco Tuesday special featuring tacos, beans, rice, chips & salsa, and a Margarita for two! This place really heats up on Cinco, so make your reservations early and be prepared for top-shelf libations and a special May 5th entertainment.
Opens daily at 11 AM, 2739 E Bidwell St, (916) 618-0303, takes reservations.
Two words, churro doughnut. Two more words, ceviche tower. One more word, molcajete. Now you have five words and three reasons to check out La Calle if you're in search of insane deliciousness. For a fourth reason, just for kicks, order up their queso Blanco dip to impress your amigos. Cinco Happenings: Happy Hour 2:30-5:30, Buckets of Beer, Pitchers of Margaritas, DJ + expanded patio!
Opens at 11 AM Tues-Sun, closed Mondays, 6608 Folsom-Auburn Rd Ste #1, (916) 293-9677
Not only does Back Bistro have a great Cinco De Mayo Special Menu filled with carnitas tacos and ceviche, but did we mention they now have a new bourbon bar!🙌🥃 They have also have a great live music summer series every Friday and Saturday night!
Opens 7 days a week and located in the Palladio next to the cinema, (916) 986-9100
You can't go wrong with indoor or patio seating at the beautiful Scott's Seafood Roundhouse building on Sutter Street. For Cinco de Mayo, enjoy some of the best fish tacos around with either their Baja fish tacos or the blackened fish tacos. Either way, you can't wrong with their special taco menu, drinks, and desserts. Check website for hours, 824 Sutter Street Folsom CA 95630, +1 916 989 6711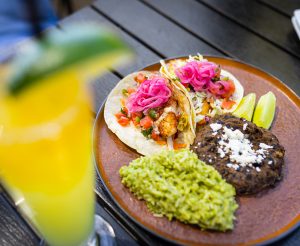 Thanks to a rich, open atmosphere, the fun just flows at Mexquite. You should be running, not walking (okay, driving is fine too) to get your hands on a signature Folsom margarita and their shrimp enchiladas. As sizzling fajitas float past and hand-crafted cocktails consumed, remember who sent you to this bastion of revelry and bold flavors. Check website for hours, 25095 Blue Ravine Rd, (916) 984-8607
👇
More Folsom Foodie Options

:

No matter where you end up hanging your sombrero this Cinco de Mayo, if it's on this list, then you'll be in for a good time and primed to celebrate this spicy holiday with the best Mexican food in town. Don't forget to tell us where you went! Tag @folsom_eats and use #folsomeats 🌮