One short staircase off of Leidesdorff will pour you into Sociology, (yes that one) at a jazzy new location they can now call their own.
A stone's throw from Escape Folsom Bar, where they originally set up their magical coffee machines and sold out of muffins, Sociology has planted new, deeper roots in the Folsom Historic District. Standing on Wool Street, looking towards Lediesdorff, you can't miss the deep-purple canopy proclaiming their much-welcomed arrival; Sociology is open for business. And business has been brisk and steady since opening its doors November 28th, 2020.
As you turn the brass doorknob and enter the Perisian-gone-to-California-for-good aesthetic, the caramel espresso aromas wrap their arms around your senses like an old friend. The deep forest green walls are accented and dashed with wide bands of misty rose, most noticeable from the lively mural bursting to life on the North-West wall. With cozy corners, natural light, and the sounds of engaged conversations, the place has a vibe dialed in for the professional bohemian and digital nomad alike. Productivity coupled with creativity, and plants on plants on plants—you're gonna like this spot.
For starters, they make one of the best sandwiches in Historic Folsom. Carved from Kyle's fresh sourdough loaves, the kitchen layers on arugula, fine cheese, and thick-cut slices of turkey breast. Their drink menu has the usual staples, but the delight is in the rotating array of drinks driven by the season that will have you coming back for a fix. And as the summer creeps in, I recommend a little 1 PM pick me up named Tesora, – honey, vanilla, cinnamon, plus oat milk and espresso- you're welcome. For a great price, you can also grab a whole loaf of fresh-baked sourdough to go, provided they haven't sold out yet.
Owners Kyle and Lindsey really know how to hit the high notes with both hot and cold concoctions. The couple has always loved the craft of coffee and taking their baking to new heights to satisfy patrons' tummies and taste buds. And they're consistently amazing, which is what every establishment dreams of, but few have reached.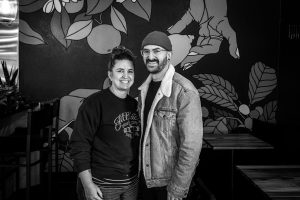 No detail is left untouched, intention and instincts drive the menu as you'll discover. One experience that sums up this attention nicely happened a few weeks prior when I picked up my mint tea and the barista had written the time (just a few minutes into the future) that I should pull the tea bag for the best flavor. Who does that!?! Sociologyists. That's who.
The secret is out.
During the weekday lunch rush, you may have a little wait, so if possible I recommend you order ahead online. Using Sociology's Square storefront, you can easily put your order in 20 minutes ahead of time and roll in looking like a world-traveled pro as you scoop up your order off the counter with a friendly nod from the staff. Past the mahogany farmhouse door, you may have noticed to the side, there is a new room decorated with living greenery and awash in sunlight. This solarium-style lounge "The Nook" is for Granite City Coworking members. As a member myself, and the full coworking space being located directly below Sociology, it makes it easy to keep my work flow going through the lunch hour. Between everything delicious at Sociology, and Granite City's "The Nook", you may discover, in addition to starting your day at Sociology, you might end up not leaving until they kick you out at closing (2 PM). 
Sociology is located on the corner of the shingle-sided multi-tenant building, sitting opposite one of historic Folsom's breakfast, baking institutions; Karen's. The two have very different approaches to morning and lunch offerings but together bring a sweet balance, like a biscotti paired with a creamy latte hot off the press. This harmony builds at an opportune time as the Historic District continues to attract new business and a startup scene that's gaining momentum.
Sociology has sparked something quite special in the community that will surely keep bearing fruit. What that fruit will be is fun to imagine. I look forward to the mornings I can spend tucked away among the caffeine and comradery, as good vibes radiate from this place like warmth from a fire. The music is always peppy and unpredictable, infusing energy into the atmosphere.
Come to Sociology for the craft coffee, delicious food, and energy, and head to The Nook for your focused workspace, and fellowship with other digital wayfarers rolling through their day.
Coffee (√ check), Coworking (√ check), Community (√ check √ check) – the newest collaboration between Sociology Coffee Bar and Granite City Coworking checks ALL the boxes.