Halloween weekend is bound to be full of candy, spooky activities, and pumpkin-flavored everything. But for anyone whose favorite time of the year is spooky season, we know that Halloween isn't just about one night, or even one weekend––it's celebrated for the whole month of October! And what better way to celebrate Halloween than with food…it's harvest season after all.
Luckily, Folsom is far from lacking in the Halloween themed dining department, and we've picked some of our favorite local restaurants that are going all out on decorations, spooky events, and Halloween inspired menus.
Bacchus House spares no expenses when it comes to celebrating Halloween and fall festivities. Enter their restaurant this month, and you'll be transported into a costume and monster emporium with a Halloween-honoring menu to match it. This time of year, their space is filled with life-sized tributes to Hollywood replicas of monsters, handcrafted collectibles from local artist, @markrobertsmagic, and classic horror movie posters that line their walls.
If life-sized, infamously scary monsters and handcrafted witch puppets aren't enough for your inner ghoul, the Bacchus House team has also curated autumn and Halloween specials that will summon spirits well before All Hallow's Eve, like their seasonal risotto. And to help summon spirits (the merry variety), their bar team has crafted a Spiced Caramel Appletini for the adult crowd.
If you're looking to get an all-out Halloween vibe at any point this month, just step into Bacchus House's transformed restaurant and enjoy a dining experience catered to those who'd prefer Halloween lasts all year. If you're lucky, you may have even snagged tickets to their sold out Halloween Jam; if not you can catch it next year as it's an annual Bacchus House tradition!
Adress: 1004 E Bidwell St b200, Folsom CA 95630 | https://bacchushousebistro.com/
Hours: Tues-Fri 11:30 am – 2 pm; 4 pm – 9 pm Sat-Sunday 4 pm – 9 pm
Reset Cafe is a unique space throughout the whole year––during the daytime you can enjoy coffee in their gothic Victorian inspired dining area, and at night you can enjoy wine, beer, and great food accompanied by scheduled live performances.
If you ask us, that pretty much sounds like Halloween night every night of the year, and earns Reset a well deserved spot on Folsom Eats' Halloween dining guide.
Book a reservation for their Afternoon Tea at any time of the year, and enjoy some traditional British tea time delicacies like finger sandwiches, scones, and petite desserts. During Halloween season, you'll be joined by piano playing skeletons at your tea time. While Reset Cafe's skeletons can't actually play piano, you can catch a live performance by Hannah Brooks Saturday, October 29th.

Reset focuses on hyper-local sourcing, so you can be sure that your charcuterie board and curated bites are made with fall time ingredients.
Adress: 727 B Sutter, St, Folsom CA 95630 | https://resetfolsom.com/
Hours: Mon-Sun 8 am – 3 pm; Sat 8 am – 10 pm
Faria Bakery, a local bakery from Oak Park Sacramento, makes their grand entrance into Folsom's foodie scene just in time for Halloween. Also just in time to whip up the kind of delicious autumnal and seasonal spiced pastries that even the best of us can't resist indulging in this October.
Their seasonal trappings include Pan de Muerto: a seasonal version of pan dulce that's traditional fare during Dia de los Muertos, crafted as an offering to the spirits of loved ones who have passed to the world beyond ours; Pumpkin Croissant Cups: a pastry of Faria bakery's own creation that's stuffed with pumpkin pie filling, and topped with cheesecake cream, cinnamon, and buckwheat Streusel.
If you don't fill up on their horrifyingly delicious pastries and baked goods, you can warm your cold soul with seasonally inspired soups, or opt for veggie-based bites that are filled with mother earth's harvest season favorites.
Address: 604 Sutter St, Folsom CA 95630 | https://fariabakery.com
Hours: Thurs 9 am – 2 pm; Sat & Sun 9 am – 3 pm
Sutter Smokehouse has a bit of an unfair advantage for Halloween restaurant destinations to hit in Folsom–it's located in the historic Folsom Hotel (founded in 1885 as the New Western Hotel), a famous local haunt with ghost stories to boot.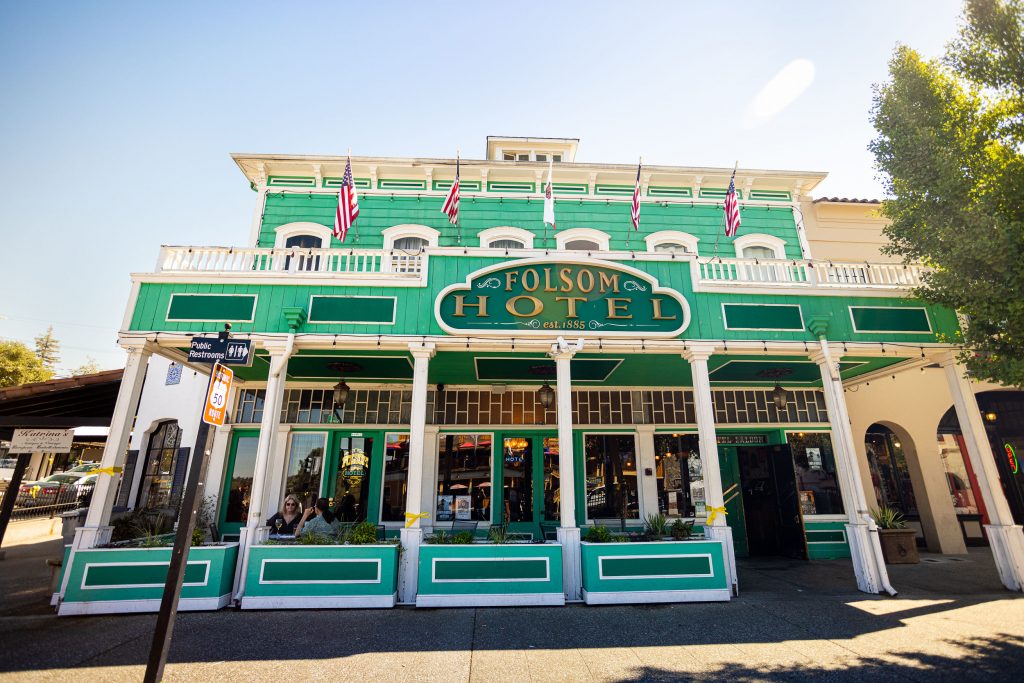 If you're a real Folsom local you might have heard the horrifying history of the infamous mirror behind the bar. We can't speak to the truth of this urban legend, but reports of paranormal activity have plagued (or graced) Folsom Hotel ever since. We'll leave it to the bartenders and servers at Sutter Smokehouse to tell you the spooky tale…and you can decide if you believe in ghosts or not.
Not compelled by the alleged haunting on Sutter Street? That's ok–you can just enjoy the delicious smoked meat and BBQ fare that this new meat-loving local spot serves up for lunch, brunch, dinner, and even late night bites.
While spectral presences can be enjoyed here all Halloween season (maybe even all year), Sutter Smokehouse is hosting a special Pumpkin Spice Party with spooky trivia and food and drinks specials on October 22 to honor this ghostly season.
Adress: 703 Sutter St, Folsom CA 95630 | https://folsomhotel.net
Hours: Sun – Thurs 12 pm – 9 pm; Fri – Sat 10 am – 9 pm
Guide to Halloween Dining in Folsom Summed Up
What Folsom may be lacking in witch trials and headless horseman, we make up for in seasonal delicacies, locally sourced ingredients, and creative local businesses that make Halloween festive, and frighteningly delicious for everyone.