🍳 Your Hyper-Local Map to Folsom's Breakfast Brunch Treasures
The Folsom Foodie Community has spoken! Based on our latest poll, we rounded up the freshest mimosas and buttery breakfasts in Folsom proper that deserve more than mere attendance, but praise, layered up high like country potatoes. Delve into the Folsom-Eats Brunch Guide and get those bookmark fingers ready. Our shortlist is ready to serve and full of eateries we think you should visit this spring and summer. So get hungry and prepare to sit down and enjoy a late breakfast that's anything but lazy and all about old-school face time with friends and family.
———————
🥂 Tuck in your napkins, pop a cork, and get ready to eat a cheat meal : )
WHY IT'S 🔥: High-quality ingredients + an exceptional culinary team = daily, fresh-made pastries, crepes, and other delectable confections that keep customers coming back in droves (we're not kidding).
As you walk through the door, the smell of so much goodness might just lift you off your feet, carrying you to the glass display case of the day's fresh offerings. Now, with outdoor seating back on the table, Julian's is a Brunch spot that can't be ignored. Anyone who's eaten here will light up when recounting their last order, but if it's your first time, you might want to lean towards the sweet. Their specialty Cinnamon Roll is legendary, of if you want something more fruity, the Brown Sugar Banana Crepe is always a pleaser. If you're set on savory, then order the Croque Madame for France's true taste; ham, Swiss cheese, Béchamel, dijon, on sliced Sourdough topped with a sunny side up egg.
Opens at 8 AM Mon-Sat, and 9 AM on Sundays, 6610 Folsom Auburn Rd Ste #7, (916) 936-4735
WHY IT'S 🔥: An atmosphere of elevated dining, great service, and gorgeous lighting does wonders for the appetite.

Atmosphere aside, Scott's serves a strong brunch game for every palate. This place thrives on freshness, and you can really taste it. A good place to start might be a Half-dozen Raw Oysters served with house cocktail sauce and cilantro lime mignonette. Or try to catch the hunks of crab meat falling out of the Three-Egg Fresh Dungeness Crab Omelet that's covered in the double-boiled Hollandaise sauce. Want to dazzle the in-laws? Order up a Créme Brulee French Toast as a surprise finish with a shared sweet treat.
Opens at 10 AM Saturday and Sunday, 824 Sutter St., (916) 989-6711 / Takes reservations
WHY IT'S 🔥: The Loco Moco + Amazing Patio | Nonbrunch related: Live Music + Prime Rib on the Patio Thursdays 6-8, all summer.
Upscale California cuisine awaits in the grand Palladio, seated right next to the Palladio Cinemas; Back Bistro aims to please and have refreshed their breakfast offerings just in time for the Brunching season. Side fork into the Loco Moco, shredded short rib on sticky rice with gravy and fried eggs, a tried and true local favorite. Looking for a sweet start, then order up three thick slices of cinnamon Brioche French Toast covered in pure maple syrup, powdered sugar, and accompanied by a side of bacon. Both indoor and outdoor seating is now available, and groups are encouraged to book ahead of time.
Opens at 10 AM on the weekends, 230 Palladio Pkwy, Ste #1201, (916) 986-9100 / Takes reservations.
WHY IT'S 🔥: One of the largest cellars of sparkling wine and Champagnes in the area.

It's simple to see why The Mimosa House is a local favorite, with the Sunday bubbly in their name; you'll be floored by the selection of over 100 variations of mimosa creations whipped up by this family-owned establishment. To help soak up those concoctions, choose from favorites like California-style French donut Toasties, or plunge into the city omelet, aptly named The Folsom, which has about everything in it except Lake Natoma. The menu features a full range of vegetarian options, including an omelet stuffed with locally sourced vegetables, sour cream, and mixed cheeses. With plenty of seating, indoors or out, The Mimosa House also features a full bar and serves lunch every day.
7 AM – 3 PM, 25075 Blue Ravine Rd Folsom, (916) 293-9442 / Takes reservations.
WHY IT'S 🔥: Aside from the delicious food feature in our Cinco De Mayo Guide! They now offer indoor seating, in addition to their sprawling outdoor deck overlooking Sutter St.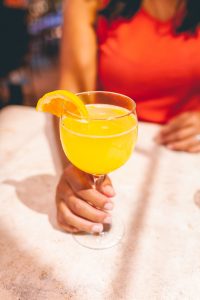 A quick jaunt up the flight of stairs pays dividends as you enter the main dining room of Q'bole!. The high ceilings and rich colors draw you into the vibe immediately, and the main bar calls hitherto where any form of liquid magic may happen. Kick-off your brunch with a house Mango Margarita before cutting into a plate of Rib-eye Steak & Eggs. For kids, try the Banana Walnut Pancakes dusted with a layer of powdered sugar. If you're feeling spicy, order the Chilaquiles, crispy tortillas with ranchero sauce, and two eggs over easy.
Opens for Brunch @ 9 AM on Fridays and Saturdays, Sundays at 12 noon, 718 Sutter St. Ste #201, (916) 357-5242
WHY IT'S 🔥: Bottomless Ocean Mimosas

Arrive early and start your tab at the elegant bar, draped in amber hues; this centerpiece has plenty of seating and also features charming booths along the opposite side. The executive chef has carved up a menu to wow, from the staple favorite Country Fried Steak and Eggs to the more refined Tenderloin Benedict featuring sautéed mushrooms, poached eggs, brandy peppercorn sauce, béarnaise, this kitchen has range. For an elevated egg experience, try the Veggie Frittata, a three-egg skillet with sautéed spinach, mushrooms, tomatoes, country potatoes, gruyere cheese, cheddar cheese, and sourdough toast.
Opens at 10 AM Saturday and Sunday, 2720 E Bidwell St., (916) 983-7000 / Takes reservations.
WHY IT'S 🔥: Popular hangout for cyclists with plenty of parking outside.

The Coffee Republic Specialty Cafe makes a quick impression and a good one. Rustic vibes ooze out of every beam and brick stretching high above as natural light streams in, beckoning you to the outdoor seating area, the real gem of this place. The outdoor tables are adrift in greenery and airy space that fill up fast. The good news is this place opens early, so why not kick things off with a Mediterranian Sunrise sandwich filled with egg, bacon, feta, pesto, tomatoes, red onions, avocado on toasted Squaw? Or trust the locals and go for the amazing Pesto Bacon Crunch burrito, which is stuffed with fresh eggs, bacon, swiss, pesto, potatoes, cream cheese & salsa.
Opens at 6:30 AM Saturday and Sunday, 6610 Folsom Auburn Rd., (916) 987-8001
WHY IT'S 🔥: Big portions and even bigger customer service.

With portions fit for the hungriest gold panner, you'll be even happier once you taste that first bite. Everything at this local's favorite is made from scratch, from Kay Gardner's extensive hit list of recipes she's been perfecting since opening her first restaurant in 1995. You'll discover many breakfast dishes graced with the culinary flavors of Mexico, from the crispy Chilaquiles, to the Pork Tamale & Eggs. Also, their multiple Chile Verde plates burst with that perfect tomatillo flavor that keeps customers lined out the door. Of course, there's also traditional fair like a slew of Benedicts and their famous Chicken Fried Steak & Eggs.
Open 6 AM to 2 PM Everyday, 426 E Bidwell St, (916) 984-4181
👇
Other Folsom Brunch Favorites